Ultimate Steak Box
The idea behind our ultimate steak box is to add in steak cuts which can all come from one carcass.
Each order will always be from a different breed which will all be native and endangered breeds such as Short Horn or Dexter and the beef will sourced locally from the home counties.
What's Included
8oz Fillet Steak
10oz Rump Steak
10oz Sirloin Steak
8oz Ribeye Steak
8oz Bavette Steak
8oz Hanger Steak
8oz Denver steak
32oz Tomahawk Steak
20oz Porterhouse
2 x Aged Bone Marrow & Rib Cap Burgers
1 x Peppercorn Sauce
1 x Dorset Oak Smoked Sea Salt
Breeds
Our Beef is sourced from British Farms who are dedicated to working with Rare and Endangered heritage Breeds such as Dexter and Short Horn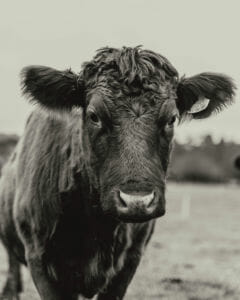 Dexter and Short Horn have been our preferred Breeds since we started Larder. The consistency of marbling, flavour and size has always been left in the hands of the farmers and their methods.

Provenance & Methods
We work  with Farms located in England and Scotland for our bone in Beef allowing us to work closer with the farmers and abattoirs.
Sustainability and animal welfare is at the forefront of the rearing process for our farmers and their just as passionate about it as are we. Traditional methods and good animal husbandry has always ensured a quality finished product for our business.

Dry Aging Process
We take in various cuts of beef on a weekly basis from whole sides, fore quarters, hind quarters, roasting, top bits you name it. We break down all primal cuts into small cuts ready for aging.
Our specialist fridges are fitted with fans and dehumidifying temperature controlling machines which ensure bacteria count and humidity are controlled during the aging process.
Dry aging also changes the texture of meat. Muscle cells are made up of mostly molecules and proteins. Dry aging encourages the enzymes to break down these molecules. As the enzymes transform the molecules of the meat, the internal structure breaks down, making it more tender
Cooking Tips
Room temp meat has to be our top tip. Removing your steak or joint at least 3-4 hours prior to cooking and allowing it to reach room temp to allow for a quick and even cook
Oil and season your steak not the pan, wait until the pan is screaming hot and sear well cooking one side at a time.