Rare Breed Pork Shoulder Joint
Rare Breed Pork Shoulder Joint
Prized for it tenderness the pork neck end or commonly known as a Boston butt is one of our favourites here at Larder.
With fantastic layers of fat which melt away during cooking leaving amazingly flavoured and tender meat all topped off with a great layer of crispy crackling.

BREEDS
The Large Black breed is native to the UK and is as all native breeds considered to be endangered and thus labelled as rare breed.
The Large Black is the only all Black pig breed and is famed for its eating quality. With large flop ears that cover their eyes they are one of the easier breeds for farming due to the fact they cannot run off and also allows them to be more docile.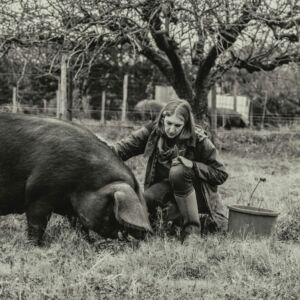 PROVENANCE AND METHODS
We work solely with David & Chloe from Oink & Udder based in Faversham in Kent. David & Chloe's vision has been to rear animals to the highest welfare standards practising organic farming methods and ensuring that all of their livestock is ethically reared.
With a very small throughput of around 6-10 head per month you can see how love, care and dedication is put into every animal they rear and slaughter.

AGING & MATURATION
After Slaughter we always allow our pork carcasses to hang for a minimum of 5 days. This process allows the meat and skin to dry before we break down into primal cuts. Dryer pork meat and skin allows for a much better cooking process with that all so important crackling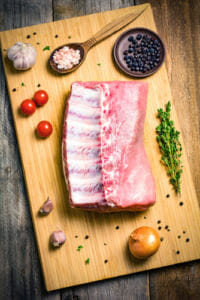 COOKING TIPS 
Room temp meat has to be our top tip. Removing your steak or joint at least 3-4 hours prior to cooking and allowing it to reach room temp to allow for a quick and even cook
Our butchers will always deeply score the pork skin on your pork joint. Ensure you liberally salt the pork skin the night before cooking or as soon as you've purchased your joint. This will ensure a crispy well cooked crackling